[Editor's note: I have updated my Calendar script to version 5 on 17 February 2009. Magicien de calendrier, Kalender-Zauberer, Mago del calendario, 日历巫术师, カレンダーの魔法使い, Чудодей календара.
Get version 5 and read more about the changes and see new templates.
WARNING! The information below is OUT OF DATE! ]
[Editor's note: Revised to add example 2009 Ai CS2 format files for download on 4 Dec. 2008.]
I was asked recently if I could automate the creation of calendars in Adobe Illustrator. It turns out there are a couple script for accomplishing this in InDesign (best is from sselberg), but only pre-built templates for Illustrator. If you need a new year, you'd have to search for a new template, which is lame. New script to the rescue! Thanks go to Joyce for this suggestion.
No, the script does not create the above calendar. Check out thumbcalendar.com.
Download version 3 of Calendar Script (33k). You will need version CS3 or CS4 of Illustrator.
Examples below for 2009.
Download Adobe Illustrator CS2 version of 2009 calendar. Use the script to build out the rest of the months.
12-up mini | January.
To install new scripts you need to:
Quit Illustrator
Copy the files into the Illustrator application folder's "Presets" » "Scripts" subfolder
After restarting Illustrator you can find the scripts in the menu "File" » "Scripts";
TIP: You can create subfolders in the scripts folder to organize your scripts
View video demonstration of script (click to play, 9.3 megs):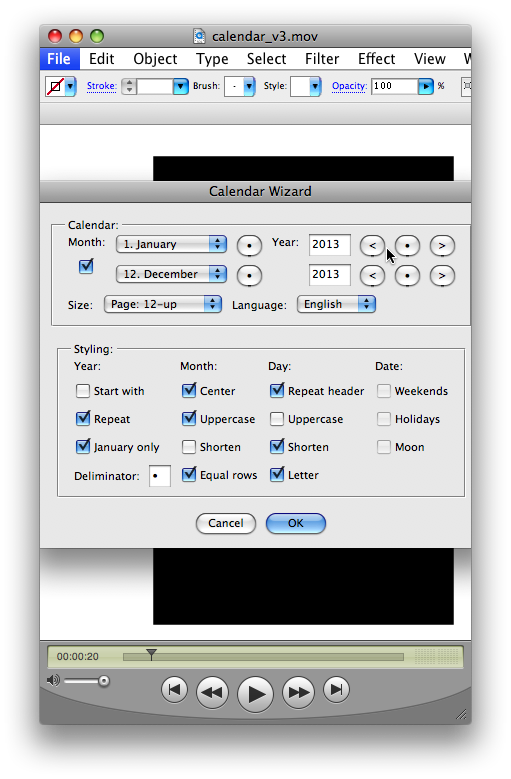 There are several sizes of calendars:
Wall calendar, large format boxed dates, 1 month fits on a page, sequential pages.
Page calendar, 12 months fit on a letter sized page.
Mini calendar, 12 months small enough to fit on a business card.
Mini 1 month calendar that fits in a date square in a wall calendar.
Couple problems:
Illustrator lacks tables, so we have to rely on tabs and other text-only options. If you want tables, use the InDesign script mentioned above.
Start week on Monday or Sunday?
Track holidays?
JavaScript doesn't track leap years for February days in month?!
Objectives:
Create single month, full year, or range of months / years.
Editable text
Stylize via script font family, style, size, etc and change later via character style
Option to put 6th week in 5th week line for wall-calendar style
Multiple size defaults
Multiple size calendars in single Illustrator document
Have a GUI graphic user interface
Future Work:
Use of tab stops. Now you have to redefine the paragraph style for the dayTabs.
Colorize weekends, holidays
Support holidays (absolute and relative)
Moon phase icons?
Draw day grid for wall-calendar size
The • buttons for month and year are not working. They should take you to the current month / year.
Tags: 2009 calendar template, adobe, calendar, character style, holiday, illustrator, indesign, javascript, paragraph style, script, selberg, style, template, text format, world bank