[Editor's note: Washington DC has the second busiest subway system in the US after New York city. This series of visual diagrams show the network's topology and how to optimize routing to achieve a better level of service (quicker train frequency). Note how the time scale has been reduced to modular 12, easy to understand as a train every 2 to 6 minutes based on the number of colored lines thru each subway station.

DC's metro rail subway is convenient and affordable. But with more people using transit every year, the system is beginning to show signs of strain (heck, it's over 30 years old now!). The federal gov't just gave one of the last nods to construct a new line (dubbed the "Silver") connecting downtown DC to Dulles International Airport and farther out into the exurbs. But this does little to alleviate crowding on the original 5 rail lines .
How to squeeze the most capacity out of existing tunnels and switches? These excellent maps from Track 29 chart the current system and show how it might be tweeked to optimize the flow of passengers from point A to point B primarily on the Orange line, the most overcrowded, where a switching problem reduces train frequency thru the downtown central business district (CBD).]
Republished in part from Track 29.
(They have a much more complete technical discussion.)
First seen at Greater Greater Washington.
The first diagram represents WMATA's current service pattern during rush hours. Colors represent each of the subway routes. More lines along a colored route represent better (more frequent) service. [Ed: not all stations shown, based on "rush" peak service.]
Based on the 135 second headway, WMATA can run 5 trains through a given segment of track every 12 minutes. Each the diagrams below represents a 12 minute interval during rush hour. Each of the lines on the diagram represents a train in each direction. Therefore, a trackway with two lines (like between Stadium Armory and Largo) represents a headway of 6 minutes–12/2. In other words, you'll be waiting for a train for up to 6 minues. While on the Red line it would only be 2.5 minutes. [Ed: map seems to undercount Green line service.]
There are several choke points in the system, including at the Roslyn tunnel where the Orange and Blue lines converge and travel under the Potomac River into the District of Columbia.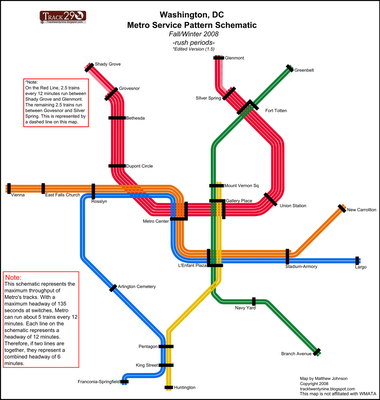 Click to see larger.
The chief limitation for the Orange Line, as you can see here is the 4 minute headway on the Vienna-Rosslyn segment. Adding one train would reduce headways to 3 minutes and would add a capacity of 1000-1400 passengers for every 12 minute period. Any additional capacity is sorely needed, but the segment of track between Rosslyn and Stadium Armory is essentially at capacity.
Hence the so-called "Blue Line Split."  Here's what WMATA is proposing: [Ed: WMATA runs the Metrorail subway in DC.]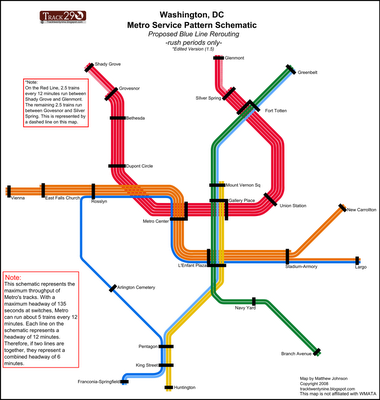 Click to see larger.
This results in better service on the Orange line, and equivelent service on the Blue, except for Arlington Cemetary station primarily used by tourists (there are no homes or offices at that station). Many Blue line riders actually need to transfer at Metro Center or L'Enfant stations or get to eastern downtown faster, so this may actually be a boon for them, too.

Click to see larger.
But, while that squeezes extra service, the naming convention of the lines becomes confused. Some propose renaming / rerouting the Blue and Yellow lines like so (below). This map reflects this and planned Silver line service.
Greater Greater DC has a full discussion of adding even more commuter rail service to the nation's capitol.
Continue reading at Track 29 . . .
Tags: alpert, frequency, greater greater dc, level of service, metro, network topology, routing, subway, topology, track 29, train, visualization, wmata