This is a followup to my earlier post on Mapping and GPS on the iPhone. I'll continue to post updates when more GPS navigation category apps are made available.
An update to AirMe: it now uploads the EXIF information's Lat/Long with the photo to Flickr so the images can be viewed placed on a map with high fidelity.
TIP 1: Take screenshots on the iPhone by holding the power button and then pressing and releasing the home button. The screen will flash and capture into your Photo "Camera Roll" in an email form.
TIP 2: To add .com or .gov or .edu to anything you're typing hold down the . (period) button and slide over the context menu that appears to the correct entry and then release your finger.
TIP 3: If you don't want to be disturbed by the phone buzzing with emails or calls in the wee hours of the night turn it to Airplane safe mode. The alarm will still sound.
FIRST UP:
G-Spot for iPhone ($2)
This is the app that will give you a read out of all the basic GPS stats the iPhone produces. This includes Latitude, Longitude, Altitude, Heading, Speed, Accuracy, and Time. It also has a few other nifty features. The same folks make another tool to make it easier to find your car in large parking lots or unfamiliar 'hoods. They also sell GPS kits for first generation iPhones.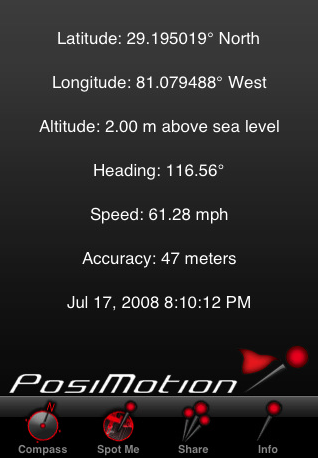 The Compass:
Shows you what direction you are currently heading [NVK: must be in moving in trajectory to be "accurate"]
Spot Me:
A shortcut to pinpointing your current location instantly in Google Maps.

Also creates a log of most recent locations.
Share:
Instantly email your current location. The email contains a link that when clicked, takes you into Google Maps and shows your exact location. Friends trying to find where you're at? Hit "Share" and email it to them, they can pull your exact location right up and get directions.
Info:
Latitude, Longitude, Altitude, Heading, Speed, Accuracy, Date and Time of the most recent location update.
NEXT UP:
GeoHash (free)
No idea what the date sliders do but it reports out the latitude and longitude simply and fast. Link to see the current location on a map. Can get the same thing by using the map your current location in the default maps app from Apple.
NEXT UP:
Nav Clock ($2)
Nav Clock is based upon those multi-function executive desk clocks that you see on people's desks in their offices.
FEATURES
Location aware. Weather information is displayed from actual weather conditions in your vicinity.
The background photography changes based upon the actual current sky conditions and the current time of day in your vicinity.
Original photography of various sky conditions.
Automatically displays the offset from Greenwich Mean Time, aviation "Zulu" time, and the geographic coordinates for your location.
NEXT UP:
Sun Compass ($1)


Sun Compass is an iPhone / iPod Touch application. Its main purpose is to help you find North using the position of the Sun or the Moon. It's not super brilliant, but might get you out of a pinch considering the iPhone doesn't have a real magnetic compass built in.
How to use
Check your location, time and date.
Find the sun or the moon in the sky.
Align the compass.
Place your iPod / iPhone horizontally, facing up. Drag the compass or rotate the iPod / iPhone so that the sun arrow points to the sun.
CONTINUING into the astro rhelm:
GeoSkyWatch Planetarium ($10)
Astronomy on the iPhone/iPod touch. Never have to wonder again what is in the night sky. GoSkyWatch easily locates and identifies planets, stars and constellations. Navigate the sky with a touch or by just pointing to the sky for quick identification. Go outside and explore the night sky.
Features:
Accelerometer based finder – just point and identify
Planet, constellation and star finder
Built in database of all stars visible to the naked eye
Star and planet brightness and distance display
Constellation boundaries, images and patterns
Easy setup using iPhone location or from city list
Select view seen for any time or location in the world
Full support of touch gestures to navigate the sky
Night mode for night viewing
It's pretty cool 🙂
And a final teaser: This site shows software in development for the 1st generation iPhone. Involves quite a bit of hacking but shows promise for more advanced mapping software.
Tags: gps, iphone, map, navigation