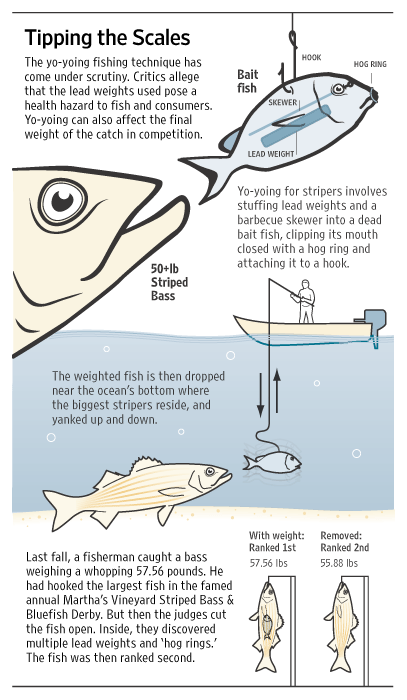 [Editor's note: Neat explanation graphic reprinted from the Wall Street Journal about cheating in fishing competitions.]
'Yo-Yoing' Is Irresistible to Striped Bass,  But Technique Can Fill Them Full of Lead
By STEVE STECKLOW


August 22, 2008; Page A1
EDGARTOWN, Mass. — When Lev Wlodyka reeled in a massive 57-pound striped bass one evening last fall, it looked like he'd caught the biggest fish in the annual Martha's Vineyard Striped Bass & Bluefish Derby. Then judges cut it open.
Inside the striper's stomach they found 10 bullet-shaped lead weights weighing nearly two pounds — surefire evidence of "yo-yoing," a baiting technique banned from the high-profile event, which will be held again next month. Mr. Wlodyka was disqualified. "I was extremely happy and then extremely perturbed, disturbed, sick," he says. The judges exonerated Mr. Wlodyka several days later, after deciding the weights had been lodged in the striper's stomach for some time. After the weights were subtracted, his fish finished second.
But the incident stirred a fierce debate here about yo-yoing, a technically challenging but potent technique that involves stuffing a bait fish with lead weight so it will sink to the ocean's bottom where big stripers lie. Popular in this corner of southeastern Massachusetts, yo-yoing is reviled by many sports anglers as unsportsmanlike and a potential source of toxic lead contamination to the fish — and the people who eat them.
Unlike metal or plastic artificial lures, which are rarely swallowed by fish, critics say yo-yoing's bait too often leads to lead-filled stomachs. "There's just a cleaner way to catch striped bass…something that doesn't pollute the environment, that doesn't contaminate fish and doesn't represent a health hazard to the consumer of this fish," says Ronald Domurat, a beach ranger and derby committee member.
Tags: explanation, fish, wsj