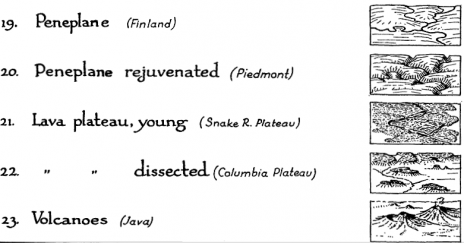 Reprinted from John Krygier's April 3, 2008 post on his DIY blog.
Erwin Raisz is among the most creative cartographers of the 20th century, known in particular for his maps of landforms.In 1931 Raisz outlined and illustrated the methods behind his landform maps, in an article in the Geographical Review (Vol. 21, No. 2, April 1931). Excerpts from the text and graphics in the article are included below.
Raisz's approach is to create complex pictorial map symbols for specific landform types. Each specific application, of course, would have to modify the symbols to fit the configuration of particular landforms.
One of the limitations of Raisz's work is that it is so personal and idiosyncratic that it virtually defies automation or application in the realm of computer mapping. Thus digital cartography has, in some cases, limited the kind of maps we can produce.
Raisz writes:

There is one problem in cartography which has not yet been solved: the depiction of the scenery of large areas on small-scale maps. 
Raisz continues:

For the study of settlement, land utilization, or any other aspect of man's occupation of the earth it is more important to have information about the ruggedness, trend, and character of mountains, ridges, plains, plateaus, canyons, and so on-in a word, the physiography of the region. 
[Ed note: View more example images past the jump.Raisz's techniques would be a nice compliment for Natural Earth.]