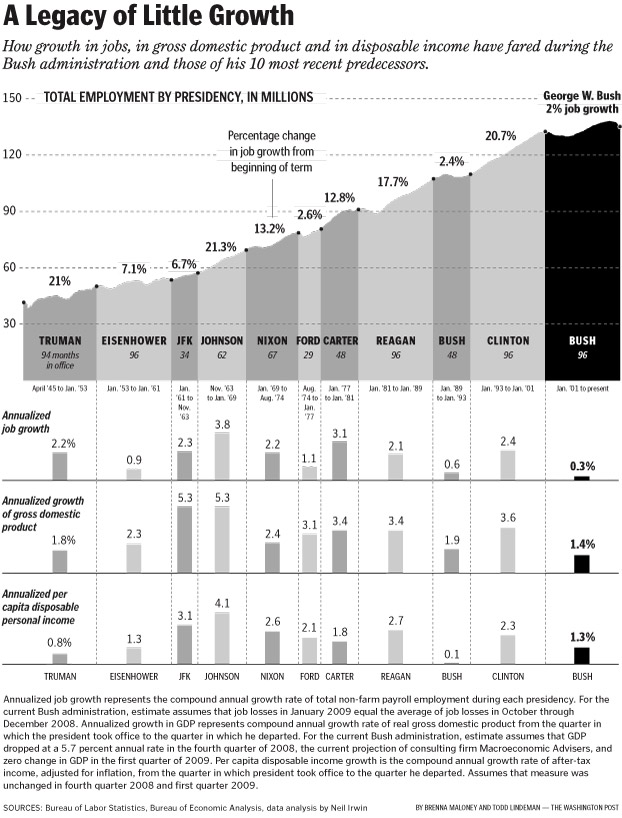 [Editor's note: This beautiful example of strong graphic story telling printed grayscale in The Washington Post on January 12, 2009. The strong contrasts in tones of black ink were very successful. Sometimes we rush to colorize graphics unnecessarily. Just because we can, doesn't mean we must. This is a follow-up to my earlier post last year. I quote from there:
"Color graphics can fall into the trap of treating every category as equal. Doing so can create graphics without any focus or visual contrast. Often one category is more important than the other. Or colors used to symbolize nominal or ratio choropleth categories are so close together they are indistinguishable and create little or no visual appeal. There are also legibility problems associated with impaired color vision."
In the color version (below) that was converted for the web, color-blind compatible blue, orange, and red hues, but I think this and many other grayscale graphics that already exhibit strong figure-ground contrast could stay grayscale when posted on the web.]
Republished from The Washington Post Monday January 12, 2009 (A01).
Bush Econ: A Legacy of Little Growth (view original).
How growth in jobs, in gross domestic product and in disposable income have fared during the Bush administration and those of his 10 most recent predecessors.
By Brenna Maloney and Todd Lindeman – The Washington Post – January 12, 2009
Color version:
Related article: By Neil Irwin and Dan Eggen
Economy Made Few Gains in Bush Years, Eight-Year Period Is Weakest in Decades
President Bush has presided over the weakest eight-year span for the U.S. economy in decades, according to an analysis of key data, and economists across the ideological spectrum increasingly view his two terms as a time of little progress on the nation's thorniest fiscal challenges.
The number of jobs in the nation increased by about 2 percent during Bush's tenure, the most tepid growth over any eight-year span since data collection began seven decades ago. Gross domestic product, a broad measure of economic output, grew at the slowest pace for a period of that length since the Truman administration. And Americans' incomes grew more slowly than in any presidency since the 1960s, other than that of Bush's father.
Bush and his aides are quick to point out that they oversaw 52 straight months of job growth in the middle of this decade, and that the economy expanded at a steady clip from 2003 to 2007. But economists, including some former advisers to Bush, say it increasingly looks as if the nation's economic expansion was driven to a large degree by the interrelated booms in the housing market, consumer spending and financial markets. Those booms, which the Bush administration encouraged with the idea of an "ownership society," have proved unsustainable.
"The expansion was a continuation of the way the U.S. has grown for too long, which was a consumer-led expansion that was heavily concentrated in housing," said Douglas Holtz-Eakin, a onetime Bush White House staffer and one of Sen. John McCain's top economic advisers for his presidential campaign. "There was very little of the kind of saving and export-led growth that would be more sustainable."
"For a group that claims it wants to be judged by history, there is no evidence on the economic policy front that that was the view," Holtz-Eakin said. "It was all Band-Aids."