I remember spending hours in my introduction to computer cartography lab class at Humboldt State University "building polygons" in the Adobe Illustrator design software package. We started with state "lines" and, one by one, duplicated and joined them into polygons by painstakingly selecting matching endpoints and cursing the Illustrator error dialogs that kept coming up. Fast forward 5 software versions and 10 years and we can now accomplish the same workflow in seconds using the new "Live Paint" feature available in version CS2 and newer. Maybe this is old news, but it's sure makes things easier on the Natural Earth Vector project!
Download native Illustrator CS3 file and follow along with sample linework.
Step 1: Start with lines for 1st order, country, and hydro coast, rivers on separate layers (like you'd normally layer your map file).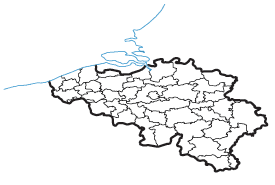 Step 2: Duplicate all related lines onto one "building" layer (the next step would group originals if you don't do here).
Step 3: Select all those duplicated "building" lines (interior state boundaries, exterior country boundary, and exterior shorelines for that country, the more linework, the slower it goes), choose the live paint tool 
and click on the selection. It will turn into a "live paint group". If  you are viewing the bounding box, it will appear slightly differently than normal handles (see below).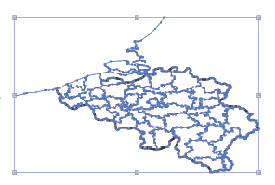 Step 4: Make sure the toolbox fill is a color like yellow (the default is set to no fill, so you won't get the tool to work unless you change it). Click and drag the live paint tool over all implied polygons between lines. Watch them turn into filled polys!!!! If you don't get an implied polygon to fill, try adjusting the gap tolerance at Object > Live Paint > Gap Options. The default settings worked fine for me, though. Not shown here are the reddish thick highlight around target polygons as the Live Paint tool is dragged acros the artwork.
Step 5: Once you're done and all your implied polygons are colored in like a coloring book, expand the live paint group (Object > Live Paint > Expand, or use the Expand button on the control panel button strip). Ungroup twice (Object > Ungroup). The polys, lines, and hydro will all be on the building layer. Use select by similar to select just the filled polys you just made and move them to the First_order_admin_polys layer. Delete the left over country and hydro lines (you have originals elsewhere).
Step 6: Color code new state polygons and compound path related admin units (none in this instance). That's it!
Problems? Try this tutorial video from Layers magazine and, separately, from Mordy Golding.