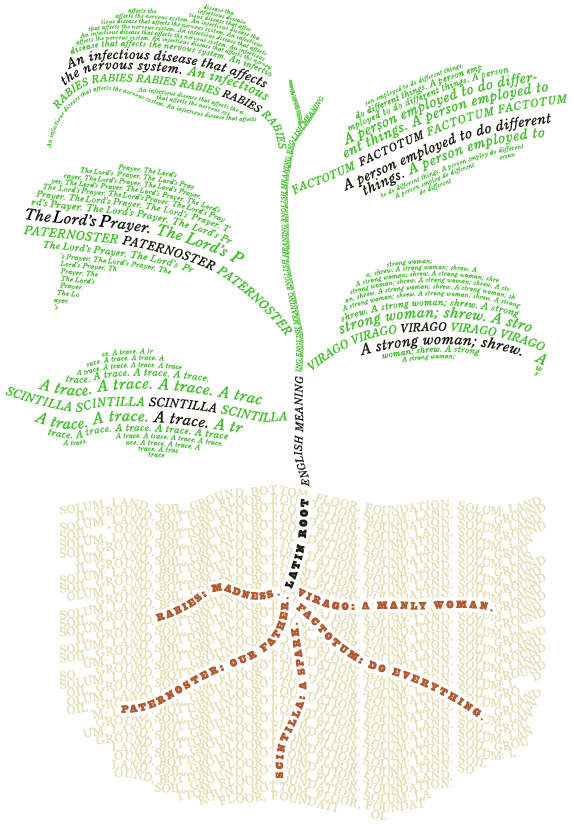 [Editor's note: Nifty typography (text word art) graphic in the shape of a plant with roots reaching down into the earth. Good use of color to establish figure-ground. Illustration for article about the study of the origin and evolution of words.] View larger (PDF).
Republished from The Washington Post.
CLASSES APART. Article by Michael Birnbaum. Graphic by Todd Lindeman. Nov. 24th, 2008.
First in a series of occasional short takes on unusual courses in local schools.
For a few hours every other afternoon, Latin and Greek roots rain on Phil Rosenthal's etymology class at Park View High School in Sterling. Etymology — the study of the origin and evolution of words — might be considered the domain of tweedy types who reek of pipe smoke. But Rosenthal tries to give his 20-some students a sense of the stories and shades behind the words they use every day.
"Kids see a word that to them is foreign, and they run away from it," Rosenthal says. He started the class with a group of other Loudoun County teachers in 1990, and it remains one of the few of its kind in the country.
On a day focused on Latin words including arena and sinister, Rosenthal talked about the twists words take as they make their way into English. Arena, for example, means "a sandy place" in Latin. Sand was scattered in the center of Roman stadiums where gladiators fought. Sinister derives from Latin for "left," with the implication that lefties were suspicious.
Rosenthal said some students take the semester-long elective because they are curious about words. Some liked other classes he taught. Others might want to improve their verbal scores on standardized tests. And a few "are actually lost," he said. "They wanted to study bugs and thought it would be a cool thing to take an entomology class." (That was a mistake shared by a Loudoun school official when a reporter made an
inquiry.)
An understanding of the complexity of language might give a leg up to students entering college. Students in Dennis Baron's English classes at the University of Illinois "tend to know almost nothing" about word origins. "They don't see roots and those sorts of things," said Baron, a professor of English and linguistics.
Although he wondered whether etymology might be better as a component of a larger high school class on linguistics, Baron said he thought it was "a way of getting at high school English without the overemphasis on formal grammatical stuff" in many secondary curriculums.
That seems to be borne out in the class. This week, students are starting a unit on the influence of mythology on the language. They'll give presentations about Sisyphus and Narcissus, who lend their names to "Sisyphean" and "narcissistic." Etymology "just brings all this general knowledge together," Rosenthal said.