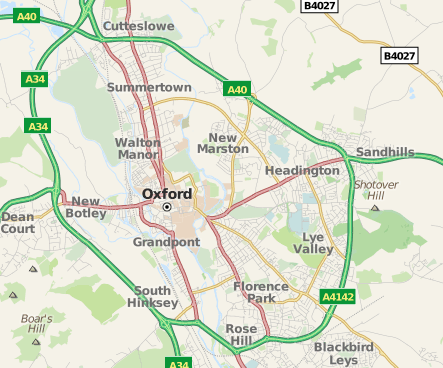 [Editor's note: MapQuest made a rare splash earlier this month when it announced it would begin using  OpenStreetMap data in some products. View State of the Map presentation at SlideShare. Images above from separate post showing top the new MapQuest styling of OpenStreetMap data and below the default OSM style. Thanks Katie!]
Republished from MapQuest.
AOL's MapQuest announced today, at the 4th annual international State of the Map 2010 conference, their plan to be the first major mapping site to embrace and encourage open source mapping at scale.  As part of this initiative, MapQuest just launched their first site that is completely powered by open source data from OpenStreetMap.org!
This new project – open.mapquest.co.uk – was developed using the new MapQuest.com design but using data provided by the OpenStreetMap community.  The main difference between this new site and our existing MapQuest UK site is that the mapping and routing data was created, edited and enhanced by every day people like you.  OpenStreetMap was designed to give the local community the ability to update areas (roads, parks, hiking trails, bike paths, points of interest, etc) that they know in their own neighborhood and around the world, ultimately leading to what we believe will be the best and most accurate mapping experience for all.
AOL also announced today, a $1 million open-source mapping investment fund.  This fund will support the growth of open-source mapping in the United States in the local communities that Patch.com covers.  More information about the AOL grant application process is available by emailing osm@mapquest.com.