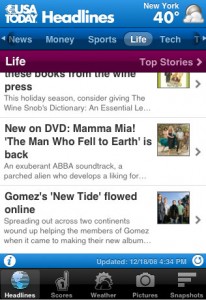 [Editor's note: Two new free mass media apps for the iPhone this week from USA Today and Accuweather.]
Republished from MacNN (1 | 2).
USA Today is joining other publications in producing its owndedicated iPhone app, the national newspaper has announced. The app attempts to replicate the look of the paper, and provides access to stories, photos, weather forecasts and reader polls. Stories are divided into News, Money, Sports, Life, Tech and Travel categories; articles can be shared with other people via e-mail, Twitter or text messaging.
Sports figures can also be viewed through a separate tab, and as with AccuWeather's app, people can access GPS-based weather forecasts when using an iPhone. The Pictures tab presents a gallery of images from each section of the paper, and again allows people to share content with others, though only via e-mail. The USA Today app is a free download from the App Store, but supported by advertising.
AccuWeather premieres GPS-enabled iPhone app
Weather forecaster AccuWeather has released its first, self-named application for the iPhone. As with most weather apps the software concentrates on providing a five-day forecast, with highs and lows as well as cloud conditions. The AccuWeather app is tied into the iPhone's GPS receiver however, and uses this to automatically determine which forecasts to show.
Current conditions can be viewed in the form of text or radar and satellite views, and users also have access to health information such as air quality, UV levels and flu prevalence. Graphs present the probability of bad weather for the next eight hours, and a video library provides summaries of both weather news and forecasts. The app lastly permits setting Weather Alarms, which warn users whenever levels of fog, rain, snow, ice, wind or lightning reach a certain threshold. AccuWeather is a free download from the App Store.