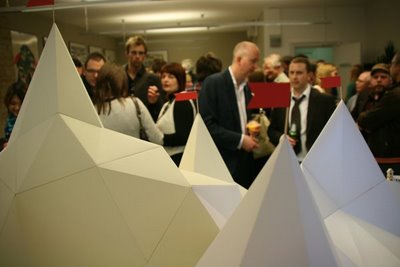 [Editor's note: The exhibition of folded paper mountains at Fedrigoni's London showroom representing an imaginary landscape. The exhibit is @ 5th Floor, 36-38 Hatton Garden, London and will be open until April 30th 2009 (open weekdays 9:30-17:00).]
Republished from Anamorphosis blog.
British Graphic Designer and Art Director Alex Ostrowski, and Illustrator and Set Maker Hattie Newman have just finished building The Fedrigoni Mountains, an impressive model mountain range, fashioned using Fedrigoni papers.
The pair also commissioned twelve intrepid illustrators to 'explore' the paper slopes and visualise their discoveries on B1 sheets of paper. Each paper peak was peppered with tiny model clues, including a plane, a native village and an abandoned camp. The illustrators elaborated on these landmarks to conjure an imaginary adventure up the mountains.