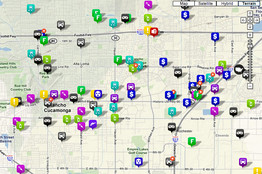 [Editor's note: Instead of screen scrapping police logs printed in community papers, web mappers are partnering directly with city police departments to get timely, accurate reports up online in map form. Thanks Yifang!]
Republished from the Wall Street Journal.
June 3, 2009. By BOBBY WHITE
When a burglar broke into a home on the outskirts of Riverdale Park, Md., last month, some locals quickly received an email alert about the incident. Once police confirmed the crime on the scene, they followed
up with a more thorough email disclosing the time, location and type of crime.
The alert is part of a crime-information service that the Riverdale Park police department provides its residents about illegal activity in their neighborhoods. "It helps us keep the public informed," says Teresa Chambers, police chief of Riverdale Park, a suburb of Washington, D.C. "It's also a way for us to solicit help [from residents] in solving some of these crimes."
Across the country, Americans can increasingly track crime trends block by block as more police departments contract with Internet-based crime-mapping services. Since 2007, more than 800 police departments have begun working with Web sites like CrimeMapping.com, CrimeReports.com and EveryBlock.com. The services take live feeds from police record-keeping systems and automatically post the data on their sites.
Police say they use the sites to help change citizens' behavior toward crime and encourage dialogue with communities so that more people might offer tips or leads. Some of the sites have crime-report blogs that examine activity in different locales. They also allow residents to offer tips and report crimes under way.
Police have traditionally depended on media reports and community meetings to inform the public about neighborhood crime. Many departments have been reluctant to share too much information with the public out of concern it could be used as a political tool, says Thomas Casady, police chief of Lincoln, Neb. But the rise of Web services that publish records online has forced some of the departments to reconsider. Some of these sites operate independently of the police department, putting pressure on police to participate, Mr. Casady says.
Continue reading at the Wall Street Journal . . .
Tags: adrian, adrian holovaty, bobby white, crime, crimemapping.com, crimereports.com, dc, everyblock, maryland, police, riverdale park, street level, track, trends, Wall Street Journal, washington, wsj