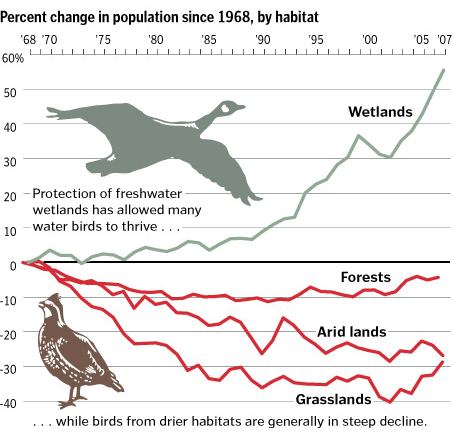 [Editor's note: "Habitat loss has sent many bird species into decline across the United States." This chart  shows the percent change in bird population since 1968, by habitat. I like three things about this chart: (1) it uses direct labeling on the green and red lines thus making it easy to understand for all and allowing color blind viewers access to the encoded information (see post) and (2) the chart segments out important thematic subtrends in the dataset. Also (3) I worked on a bird migration supplement (wall) map for National Geographic in 2004 and Cornell Lab of Ornithology has some of the coolest time-based mapping techniques around. See original artwork from the North America side of the supplement now thru May at NG Explorers Hall in DC.]
Republished from The Washington Post.
Graphic by Patterson Clark. Â March 20, 2009.
SOURCE:Â www.stateofthebirds.org.
Related story by Juliet Eilperin.
Major Decline Found In Some Bird Groups
But Conservation Has Helped Others
Several major bird populations have plummeted over the past four decades across the United States as development transformed the nation's landscape, according to a comprehensive survey released yesterday by the Interior Department and outside experts, but conservation efforts have staved off potential extinctions of others.
"The State of the Birds" report, a broad analysis of data compiled from scientific and citizen surveys over 40 years, shows that some species have made significant gains even as others have suffered. Hunted waterfowl and iconic species such as the bald eagle have expanded in number, the report said, while populations of birds along the nation's coasts and in its arid areas and grasslands have declined sharply.
From the report: "Reveals troubling declines of bird populations during the past 40 years—a warning signal of the failing health of our ecosystems. At the same time, we see heartening evidence that strategic land management and conservation action can reverse declines of birds. This report calls attention to the collective efforts needed to protect nature's resources for the benefit of people and wildlife."
Continue reading at The Washington Post . . .