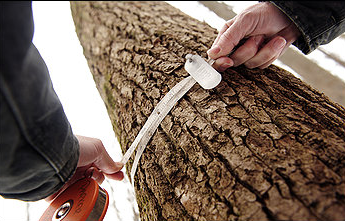 [Editor's note: Humorous but scientific take on "tree huggers" in the U.S. mid-Atlantic. Catching up on some old clippings as I roll back into DC.]
Republished from The Washington Post.

Jess Parker hugs trees.
In the woods of Anne Arundel County, he throws his arms around tulip poplars, oaks and American beeches, and holds them so tightly that his cheek presses into their bark. This is not some hiker on a lark: anybody, hopped up on campfire coffee and exercise endorphins, might hug a tree once.
This is science. Parker has done it about 50,000 times.
Parker, a forest ecologist at the Smithsonian Institution, has spent the past 22 years on a research project so repetitive, so time-consuming, that it impresses even researchers with the patience to count tree rings. Since 1987, he and a group of volunteers have embraced thousands of trees, slipped a tape measure behind them, and wrapped it around to measure the trees' girth.
This year, after about 250,000 hugs between them, the work paid off.
Parker's data, which showed the trunks gradually fattening over time, indicated that many of the trees were growing two to four times faster than expected. That raised questions about climate change's impact on the age-old rhythms of U.S. forests.
It might also raise questions about Parker and members of his team, who say they enjoyed almost every minute of it.