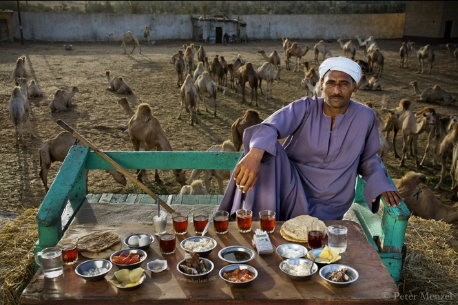 [Editor's note: A new coffee table photo book from Peter Menzel and Faith D'Aluisio. "Menzel's photographs are accompanied by D'Aluisio's text, which delineates each diet but also gives cultural context." Above, a camel broker in Egypt. Thanks Aly!]
Republished from NPR.
How many calories do you consume in a day? Is it more or less than the recommended 2,000? How does it compare to the butter-rich 4,900 of a Tibetan monk — or the scant 800 of a Maasai herder in Kenya? These are the questions asked by photographer Peter Menzel and his wife, Faith D'Aluisio, in their new book, What I Eat: Around the World in 80 Diets.
"I want people to understand their own diets better — and their own chemistry and their own biology," Menzell tells NPR's Michele Norris. "And make better decisions for themselves." To do that, he and D'Aluisio decided to lay it all out. Literally.