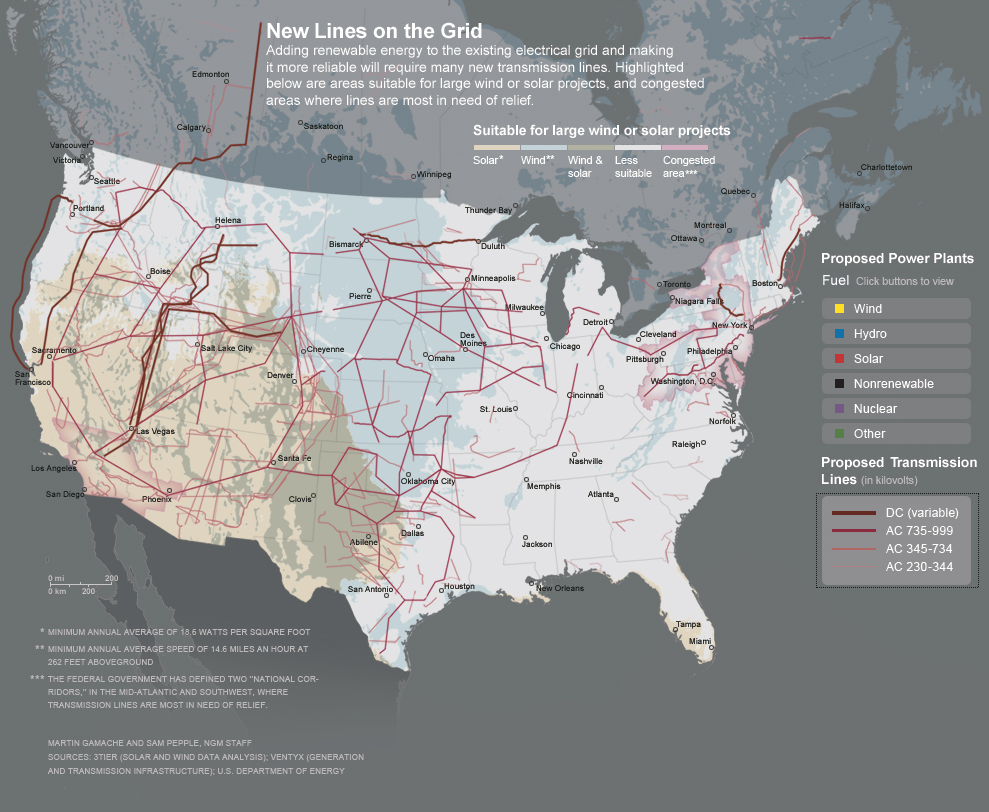 [Editor's note: Interactive map shows proposed renewable energy power plants and transmission lines in the United States and Canada. The print version by Martin Gamache and Sam Pepple is worth a look –– it composites the multiple themes into a single view, and compares with the current state of the power system in a separate map.]
Republished from National Geographic Magazine.
Can we fix the infrastructure that powers our lives?
By Joel Achenbach. Photograph by Joe McNally
We are creatures of the grid. We are embedded in it and empowered by it. The sun used to govern our lives, but now, thanks to the grid, darkness falls at our con­venience. During the Depression, when power lines first electrified rural America, a farmer in Tennessee rose in church one Sunday and said—power companies love this story—"The greatest thing on earth is to have the love of God in your heart, and the next greatest thing is to have electricity in your house." He was talking about a few lightbulbs and maybe a radio. He had no idea.
Juice from the grid now penetrates every corner of our lives, and we pay no more attention to it than to the oxygen in the air. Until something goes wrong, that is, and we're suddenly in the dark, fumbling for flashlights and candles, worrying about the frozen food in what used to be called (in pre-grid days) the icebox. Or until the batteries run dry in our laptops or smart phones, and we find ourselves scouring the dusty corners of airports for an outlet, desperate for the magical power of electrons.