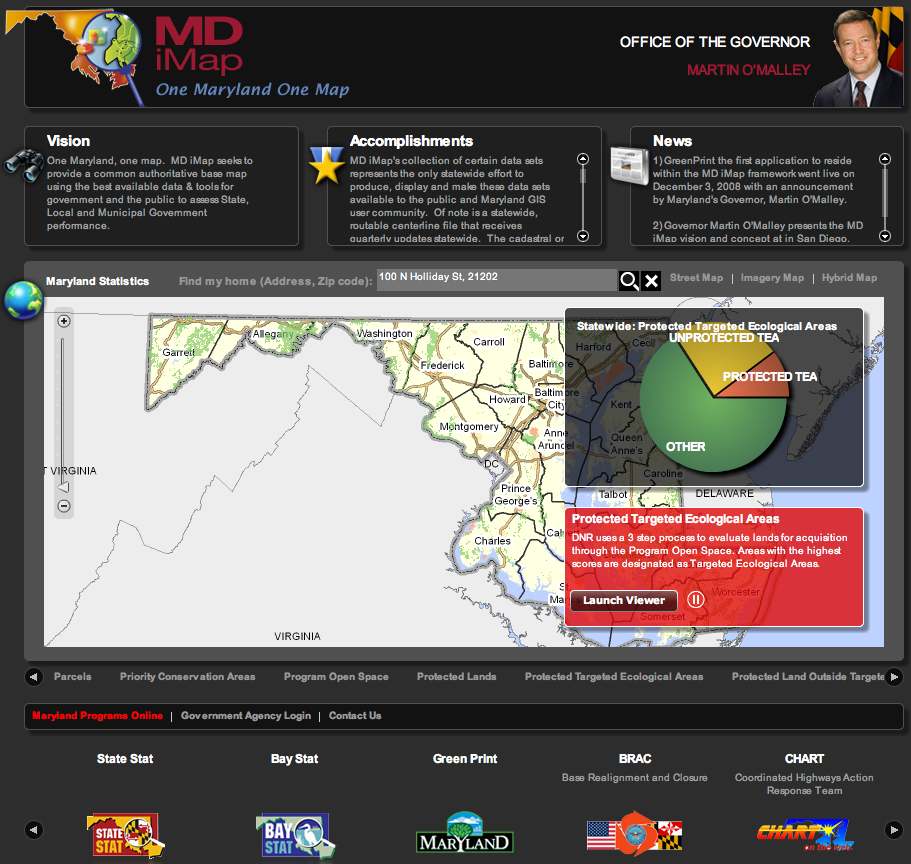 [Editor's note: One of the more useful + powerful sites to leverage new Flash / Flex mashup capabilities of new ArcGIS 9.3 release. The site is designed both for state residents and government policy makers. Thanks Mary Kate!]
Republished from ESRI and State of Maryland. Original Feb. 11, 2009.
Authoritative Statewide Basemap and Performance Measurement Tool Serves Government and Citizens
Redlands, California—Maryland Governor Martin O'Malley recently launched the ArcGIS Server software-based MD iMap, an authoritative online basemap of Maryland that allows government and citizens to assess state, local, and municipal performance. As the portal into the state's enterprise geographic information system (GIS), MD iMap also provides data to governments throughout the state including seamless, geocoded statewide centerlines and six-inch imagery. MD iMap embodies O'Malley's vision of "one Maryland, one map."
"In Maryland, GIS is vital to setting goals, tracking performance, and creating transparency," said O'Malley. "We have been using GIS for years to increase government accountability and efficiency and to enhance transparency. With one comprehensive and interactive map for Maryland, our citizens will have access to unprecedented information online. From land conservation to public safety, the possibilities are endless when government becomes transparent and accountable to the citizens it serves."
GreenPrint is the first GIS-based performance measurement application that is accessible via MD iMap. It is a planning tool designed to help government staff, conservation organizations, and individual citizens make good decisions about land conservation and growth. The state's other performance measurement applications, including StateStat and BayStat, will be added soon.
To support government staff in Maryland, a secure agency login on the MD iMap Web site home page connects users to Maryland GIS Online, which is built with ArcGIS Online. On that site, staff can download data and Web services from other government entities in the state. In addition to significantly enhancing data sharing and coordination, the portal is innovative in its delivery of real-time, up-to-date statistics in one sleek, user-friendly interface.
"Governor O'Malley's vision of one Maryland, one map, speaks to the best in government including accountability, unity, and service to citizens. It is also an outstanding example of a public and private partnership driving government forward," said ESRI president Jack Dangermond.