[Editor's note: January begins newspaper design association page contest season. We came across this graphic looking thru our 2008 work in the Washington Post and was reminded how it fits in with my geography and projections as network topology thesis. Lines on this map of "Major Global Trade Routes" of oil connect each geographic feature with related geographic features. Weights are given to each connection and represented visually. Overall the network is conformal to real geography in a top level abstract sense, but the connections (flow lines) between them shine. Kudos to Renée, now at the Wall Street Journal.]
Reprinted from The Washington Post, July 27, 2008.
In the time it takes most people to read this sentence, the world will have used up (forever) about 9,520 barrels of oil. At 40,000 gallons per second, it's going fast.
The United States plays a central role in the global energy system as the largest consumer, the largest importer and the third-largest producer of oil in the world. With use of this finite resource rising at breakneck speed, will the world have enough to meet its needs, and will it be able to afford it?
TOP OIL PRODUCERS
Where does the oil come from? Just three countries — Saudi Arabia, Russia and the United States — pump about 31 percent of the world's oil. More than 9 million barrels per day of crude oil (plus another 1 million barrels per day of liquids derived from natural gas) are being extracted from the reserves underneath Saudi Arabia, the world's single largest oil producer.
TOP OIL CONSUMERS
Every day, the U.S. consumes more than 20 million barrels — almost one-fourth of all the oil used in the world and more than two times as much as the second-biggest consumer, China. Consumption in most developed countries, including Britain, France, Germany and Italy, hovers around 2 million barrels a day — barely a tenth of that used by the U.S.
Screenshots below and above. Download PDF.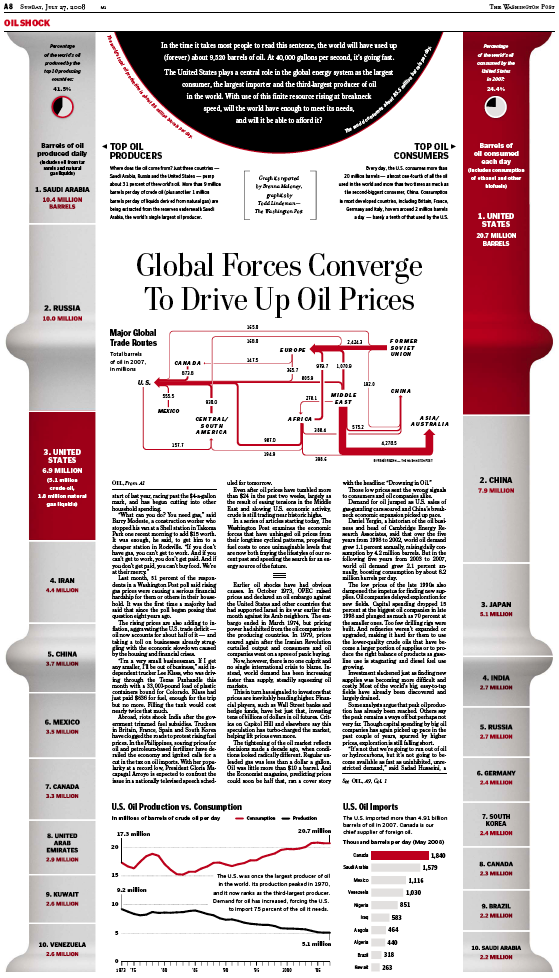 Graphics reported by Brenna Maloney, graphics by Todd Lindeman — The Washington Post. Map by Renée Rigdon – The Washington Post.