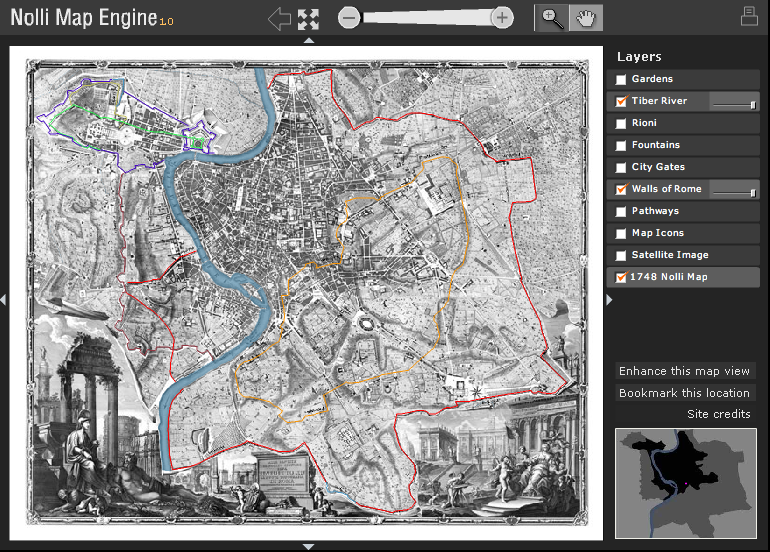 [Editor's: I was reminded of Nolli's work by Michal Migurski this weekend. Fresh off the heals of his award winning interactive version of the 2001 Atlas of Oregon, Erik Steiner presents the original Nolli map in a Flash-based interface to toggle annotation layers and zoom into the engraving. Extensive scholarly background is also provided on the site. Eric is now the lab director of the Spatial History Lab at Stanford University.]
Republished from University of Oregon.
The 1748 Map of Rome, by Giambattista Nolli is widely regarded by scholars as one of the most important historical documents of the city ever created and serves to geo-reference a vast body of information to better understand the Eternal City and its key role in shaping Western Civilization. The Nolli Map Web Site introduces students to Rome and the structure of its urban form; it illustrates the evolution of the city over time; and it reveals diverse factors that determined its development.
Giambattista Nolli (1701-1756) was an architect and surveyor who lived in Rome and devoted his life to documenting the architectural and urban foundations of the city. The fruit of his labor, La Pianta Grande di Roma ("the great plan of Rome") is one of the most revealing and artistically designed urban plans of all time. The Nolli map is an ichnographic plan map of the city, as opposed to a bird's eye perspective, which was the dominant cartographic representation style prevalent before his work. Not only was Nolli one of the first people to construct an ichnographic map of Rome, his unique perspective has been copied ever since.
The map depicts the city in astonishing detail. Nolli accomplished this by using scientific surveying techniques, careful base drawings, and minutely prepared engravings. The map's graphic representations include a precise architectural scale, as well as a prominent compass rose, which notes both magnetic and astronomical north. The Nolli map is the first accurate map of Rome since antiquity and captures the city at the height of its cultural and artistic achievements. The historic center of Rome has changed little over the last 250 years; therefore, the Nolli map remains one of the best sources for understanding the contemporary city.
The intention of this website is to reveal both the historical significance of the map and the principles of urban form that may influence city design in the future. During the last half of the 20th century, architects and urban designers have shown a renewed interest in what the Nolli map has to offer, leading to new urban theories and a model for the study of all cities.