[Editor's note: Enjoy these examples of early cartograms from Zach Johnson's thesis research.]
Excerpted from IndieMaps.
Originally published there Dec. 8, 2009.
I'm kind of on a cartogram kick lately. I'm interested in the pioneers of the form, those who first thought to distort borders and explode topologies in order to convey the distribution of some thematic variable. When was the first cartogram produced, where, and by whom? I ran into a lot of material while researching my thesis; this post only begins the discussion.
1868
The honor typically goes to Émile Levasseur for the diagrammatic maps contained in his 1868 and 1875 economic geography textbooks.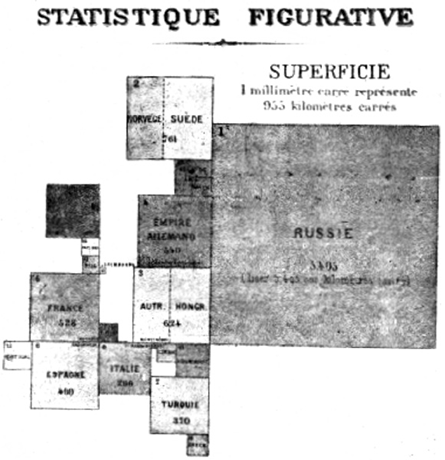 H. Gray Funkhouser (1937) wrote of these "colored bar graphs",
squares proportional to the extent of surfaces, population, budget, commerce, merchant marine of the countries of Europe, the squares being grouped about each other in such a manner as to correspond to their geographical position
Interestingly, Waldo Tobler (2004) points out that the example printed by Funkhouser (above) was sized by land area and thus not a true value-by-area cartogram. I don't have access to Levasseur's texts, and it's odd that the only available scan of Levasseur's first cartogram shows a diagrammatic map, not a true cartogram.
1897
On the other hand is the image below, whose units are definitely sized to the data, but whose geographic arrangement is questionable. I first saw this page from an 1897 Rand McNally Atlas of the World in a SpatialCollective post; a high res version is available from the David Rumsey Map Collection.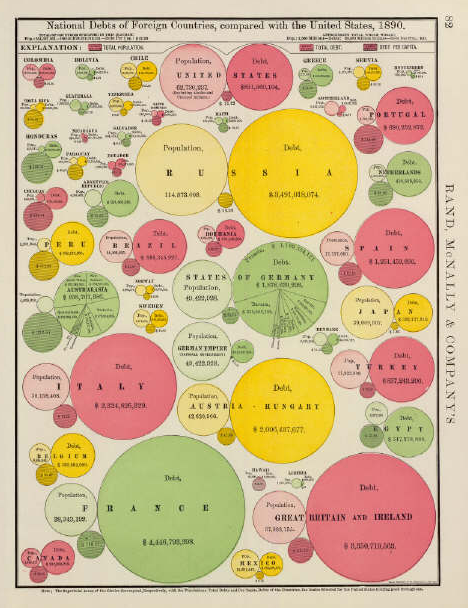 Circles on the left are sized proportional to population, those on the right to debt. Though the arrangement seems haphazard, geography is not ignored as the circles are grouped together by continent. I don't really buy these as cartograms, but they're certainly a predecessor to the circular cartogram form popularized by Danny Dorling nearly 100 years later.